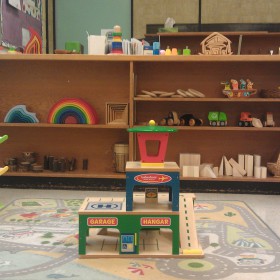 Remote Support for StrongStart Families 2020
James Bay StrongStart is open daily from 8:45 a.m. to 11:45 a.m.
CONTACT: StrongStart@sd61.bc.ca
Kris Munoz is  the programme leader for the James Bay Community School Strong Start.
The James Bay Community School StrongStart Programme is a free drop-in early learning program for children aged 0 to 5 years. Children must be accompanied by a parent or caregiver while attending the program. Our wonderful programme is conducted by Kris Munoz, a qualified early childhood educator who leads a variety of learning activities designed to help children get ready for success in kindergarten.
Parents and caregivers attending our JBCS StrongStart center can expect organized sessions like story time, play activities, and a healthy snack. Discover new ways to support your child's learning. Make connections with others parents and caregivers who attend and gain important information about additional services and resources in our community.  Please make sure to sign in each time you attend the program.  It is  important that accurate numbers of participants are recorded to keep our programs open.
James Bay StrongStart is open daily from 8:45 a.m. to 11:45 a.m.
Registration forms are available upon arrival. You can also print this PDF to fill out at home.
Please ensure that you sign your child/children in when you arrive.
Storytime in the Library is each Tuesday morning at 10:50 a.m.
Gym time is each Wednesday morning from 8:45 a.m. to 10:00 a.m.
We are located in the main school down the hall from the JBCS Library
For more information about the program please visit the District's StrongStart Page: https://www.sd61.bc.ca/programs/strong-start/
James Bay StrongStart Closures: Closures for team meetings/Pro-D
Friday, September 20th
Thursday, November 21st
Friday, January 17th
Friday, January 24th
Friday, April 24th
Wednesday, June 24th
StrongStart is closed for a thorough cleaning at the end of each term:
Wednesday, December 18th to Friday, December 20th
Monday, January 6th and Tuesday, January 7th
Thursday, March 12th and Friday, March 13th
Thursday, June 25th and Friday, June 26th
The StrongStart program will be closed whenever James Bay Community
School is closed.
We look forward to seeing you.