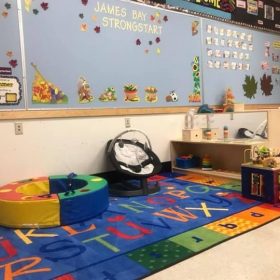 Booking a Spot
Due to COVID-19 restrictions parents must register online and create a booking in order to join in-person StrongStart programming.
Online Registration is available by following this link: https://studentregistration.sd61.bc.ca/registration/strongstart. To register, you will need to upload a photo of proof of your child's age (e.g. birth certificate, passport, landed immigrant authorization, or INAC status card).
When you have registered you can book a date to visit the program here: https://strongstartbooking.sd61.bc.ca/
COVID-19 Protocols
For more information about StrongStart, including our COVID-19 Protocols, please check out our District Page at https://www.sd61.bc.ca/programs/strong-start/
Find us on Facebook
Even if you are unable to join us in person our StrongStart Facebook group includes greats tips and suggestions for parents in our community: https://www.facebook.com/groups/JamesBayStrongStart/
About Our Programme
Kris Munoz is  the programme leader for the James Bay Community School Strong Start.
The James Bay Community School StrongStart Programme is a free early learning program for children aged 0 to 5 years. Children must be accompanied by a parent or caregiver while attending the program. Our wonderful programme is conducted by Kris Munoz, a qualified early childhood educator who leads a variety of learning activities designed to help children get ready for success in kindergarten.
Parents and caregivers attending our JBCS StrongStart center can expect organized sessions like story time, play activities, and a healthy snack. Discover new ways to support your child's learning. Make connections with others parents and caregivers who attend and gain important information about additional services and resources in our community.
We are located in the main school down the hall from the JBCS Library
For more information about the program please visit the District's StrongStart Page: https://www.sd61.bc.ca/programs/strong-start/
CONTACT: StrongStart@sd61.bc.ca